Fyrisån (the Fyris River)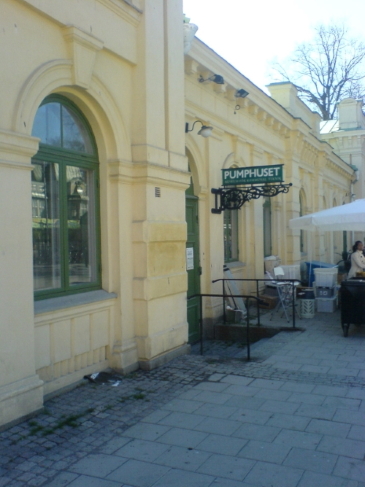 S.Pathkiller 2009, The old pump house on the Fyris River., CC
The source of the Fyris River is located approximately 80 kilometers north of Uppsala near the village of Dannemora. Fyris is not a large river and, as previously mentioned, it flows into Lake Mälaren, with a number of tributaries joining it along the way. Water from Lake Tämnaren, 40 kilometers northwest of Uppsala is pumped into the Fyris River, and then later pumped out as the city's water supply.
Until the 17th century, Fyris was known as "Sala", referring to the halls of the Swedish kings in Gamla Uppsala. The land along the river was once a marshy plain called "Fyrisvellir" or "Fyris Wolds" where travelers had to leave their ships in order to walk to those halls. In fact, if you happen to walk the trail along the Fyris River today, towards the area of Sunnersta, you will still see small boggy areas all along the way, remindful of that time.
Nordic legend states Fyris Wolds was the site of great battles between Viking kings. One such battle was fought at the end of the 10th century, where Styrbjorn the Strong, backed by Danish King Harold Bluetooth, tried to take the crown from his uncle, Eric the Victorious and lay claim to the kingdom in Svealand. Styrbjorn was defeated and fell in battle. Two of the rune stones found in other parts of Sweden, referring to fallen warriors with the statements "He did not flee at Uppsala", lend credence to the myth. The Sala River became the Fyris River in the late 1600s in remembrance of the Norse sagas, due in large part to Olof Rudbeck.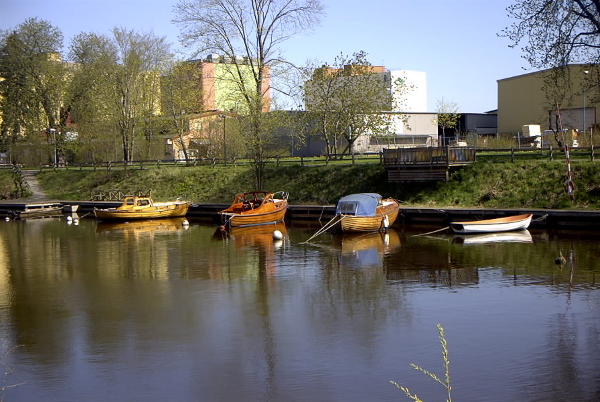 S.Pathkiller 2003, Wooden boats moored on the river, CC
In the mid 18th century Carl Linnaeus experimented successfully with the production of artificial pearls using fresh-water mussels in the Fyris River. The patent for his pearl-cultivating method was then sold to a man from Gothenburg, but never used.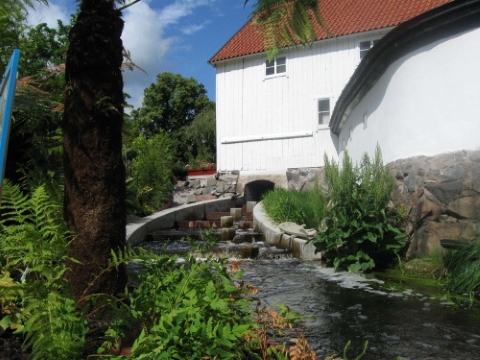 S.Pathkiller 2009, The fish ladder to aid Asp fish on their journey downstream, CC
In addition to mussels, the Fyris River is home to other native Swedish wildlife, such as a protected species of eel, otters and the Asp fish. In 2007 a special fish ladder was constructed in the city so that the migrating Asp could bypass two weirs (man-made falls), and more easily reach their spawning waters. It is the weirs which keep larger boats from venturing up the river, and makes for an entertaining spectacle each year when students attempt to navigate those falls in their home-made rafts.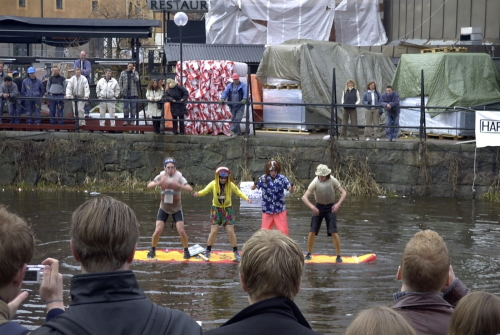 S.Pathkiller 2003, Students brave the falls in the annual raft race, held every April, CC